What are LED pixel dot lights?
It's been over 2 years since the Smart Pixel 40 Metal and 60 dots lit up the lighting world from the Port Hedland Skate Park, in Australia, to a suspended Whale Shark Art installation in Quatar. The Smart Pixel 40 Metal and 60 Dots have been around the world delighting all viewers.
The Smart Pixel 40 Metal and 60 Dots have been running lighting shows by themselves but today we are expanding the range and releasing the Smart Pixel 40 and Smart Pixel 100×25 Dots. These are just as robust, reliable, and bright as you expect from ENTTEC lights. These new products create a Smart Pixel Dot to fit every project and budget. From small stage performances to large multi-story buildings, the Smart Pixel Dot range can light up your next project.
Engineered for indoor or outdoor use, ENTTEC's SMART PXL LED pixel dot lights are flexible strings of 16-bit resolution, individually addressable RGB or RGBW LED pixel nodes.
These direct-view luminaires create spectacular, bright, and crisp lighting effects, adding a stylish design element to any architectural façade, commercial, or entertainment project.
IP67-rated to withstand the harshest environments, LED pixel dot lights are available with different diffuser options and custom flex spacing. With mounting holes making installation a breeze, configure your SMART PXL dots into almost any conceivable shape.

Precision engineered +
proudly made in Australia.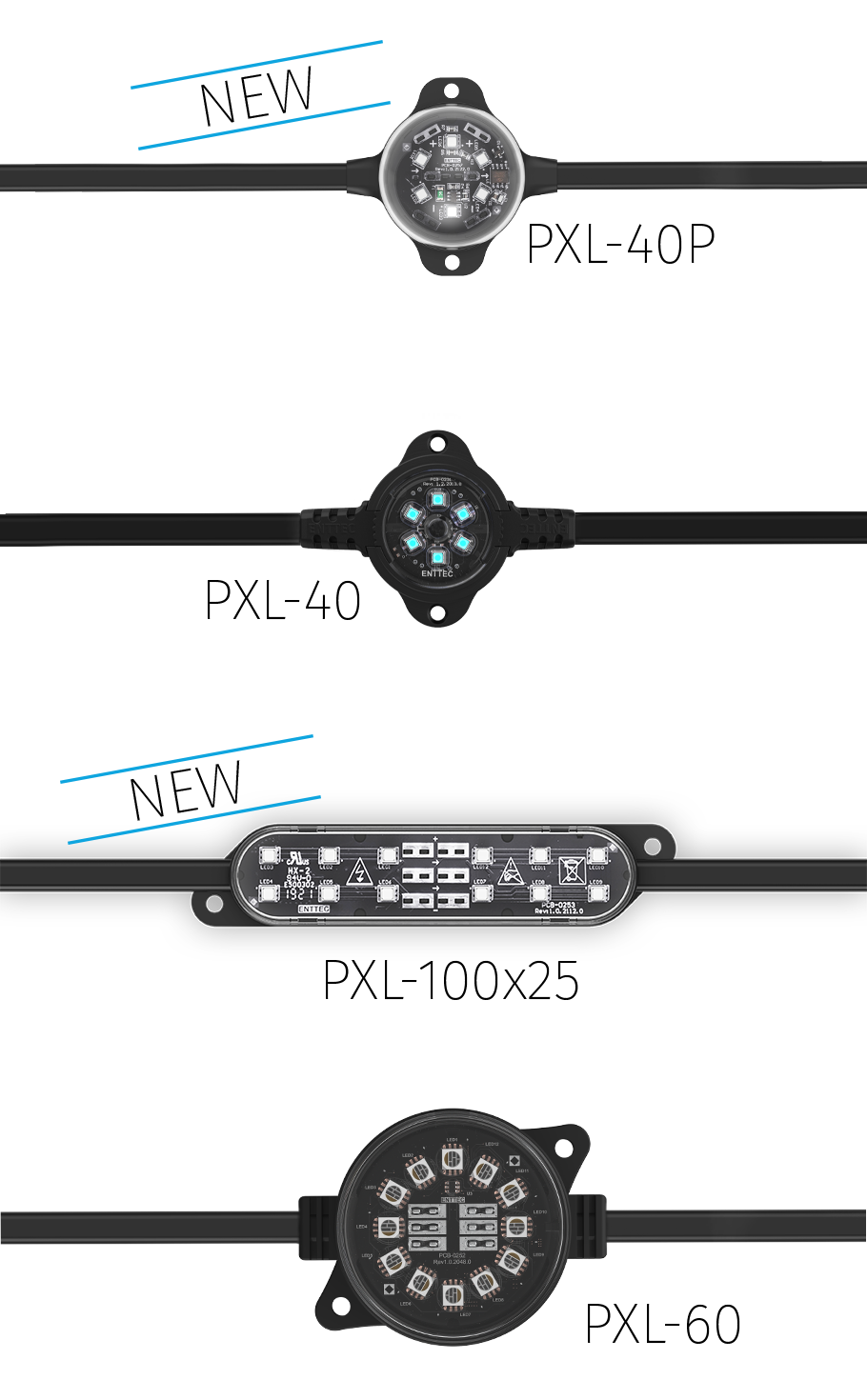 16-bit native for an ultra-smooth dimming curve and mixing detail that will truly wow your audience. Or, add an ENTTEC control system and have the option of running in 8-bit mode to double your control channels.

Each LED pixel dot light node contains premium LEDs, giving an impressive lumen output with different diffuser options. What's more – thick, tinned copper cabling reduces voltage drop over the length of each string.

SMART PXL dot cases are made from the finest and most durable quality materials available. With a 3-year warranty as standard, these dots are seriously engineered to stand the test of time.

Offering outstanding protection against moisture and corrosion, SMART PXL internal components are fully-potted (encased in resin) for waterproofing as well as resistance to shock and vibration.
We're here to help.
At ENTTEC, we take great pride in the personal, hands-on approach that we bring to our customers. Whether you're dealing with LED lights and control systems for a football stadium or your spare bedroom … if it's important to you, then it's important to us.
Talk to our team today.