Australian Open 3D logo
(Melbourne, Australia)
Game, Set & Match:

You only get one chance to wow a crowd, and when you're going for a grand slam of the senses, the versatility and precision engineering of ENTTEC's pixel solutions will ensure that you're hitting aces all the way. Serve up the reliable, winning combo of our Pixelator, Pixel Link and Pixel Dot products so you'll have your audience on the edge of their seats.
This installation consisted of a 3-metre high 3D logo, which in addition to the video screen on its front, had the ENTTEC LED pixel dots covering the side surface, it created a full 360 degree experience. From an original concept by branding agency Landor, the pixel element of the design was achieved by The P.A. People using the following equipment:
– 4 x Pixelator Mini: the compact, 8-port version of ENTTEC's flagship Ethernet > Pixel Link driver.
– 15 x PLink Injector (12V-24V). The Pixel Link system allows data to travel up to 300 metres on standard Cat 6 cables.
– 1950 x ENTTEC pixel dots with clear, flat diffusers, each dot being individually controllable.
Original concept: Landor
Project and lighting designer: The P.A People
Client: Tennis Australia / The Australian Open




Video courtesy of The P.A. People, Conceived and produced by Landor for Tennis Australia. Music: Inspired, by Kevin MacLeod, Incompetech. Licensed under Creative Commons: By Attribution 3.0. Please note that this is a conceptual rendering and not real footage of the final installation. It is, however, the actual video that inspired Tennis Australia to commission the project in the first place. Also, thanks to the P.A. People, ENTTEC is proud to have played a part in transforming such a great idea into reality.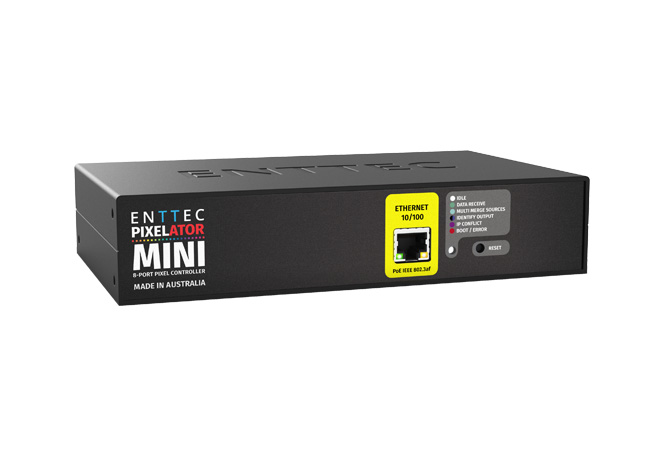 Pixelator Mini – 16-Universe Ethernet to pixel converter
A smart, cost-effective lighting control solution, the Pixelator Mini is a compact 16 Universe rack, surface & DIN-rail mountable, eDMX to LED pixel protocol converter.
Shopping list: