A high-intensity, sensory experience
(Swindon, UK)
Ingredients:

– 1 x Pixelator: ENTTEC's flagship Ethernet > Pixel Link driver.
– 20 x PLink Injector. The Pixel Link system allows data to travel up to 300 metres on standard Cat 6 cables.
– 50 metres of ENTTEC pixel tape, each dot being individually controllable.
With health-conscious consumers demanding more flexible ways of improving their fitness, it's important that gyms and leisure centres provide members with the best environment, equipment and unrivalled experience to support them in achieving their health and fitness goals.
Architectural lighting specialists ErosPhos succeeded in creating the cycle+ studio: an exclusive, high-quality and inviting space designed to stimulate all the senses, using an ENTTEC Pixelator, PLinks and 50 metres of pixel tape.
The ENTTEC Pixelator is the most advanced LED pixel tape controller on the market, converting Art-Net and sACN protocols to handle a staggering 48 Universes. Manage over 8000 pixels, using your favourite pixel mapping software, and let Pixelator take care of the rest.
All the lighting effects are driven by dedicated media servers controlled from a customised touchscreen interface mounted onto the instructor's spin bike. The instructor simply selects a music track on the touchscreen interface which has been pre-programmed for convenience and this begins the synchronised sound and lighting, meaning that the lighting effects are truly consistent with the music that is being played.
"High-endurance exercise combined with high-intensity lighting to produce a zone which is entertaining and exhilarating, we have been able to entice gym users from all backgrounds to join in and use the space. Using cutting-edge technology to create such a space has increased membership signups, general use of the gym and of course, raised revenue, marketing and promotion of the brand."
Russell Vanstone Technical Director, ErosPhos Ltd.
Project concept, design and installation: ErosPhos
Client: Blunsdon Fitness+
Blunsdon's video features the installation getting a complete workout!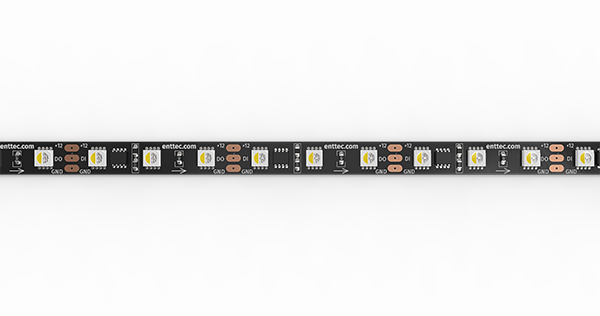 Black 12V RGBW 60-LEDs/m (grouped)
The best way to minimise external light reflection and conceal the workings of your installation when the display is switched off. It's the stuff that a stealth designer's dreams are made of.
Shopping list: