Loops light sculpture
(Upminster, United Kingdom)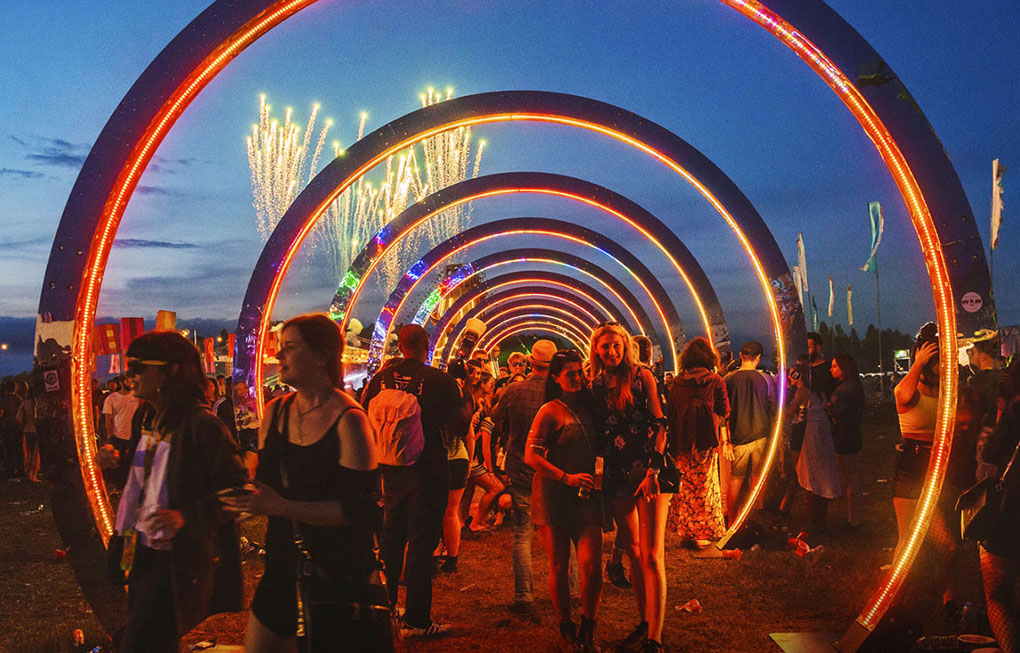 When one of the UK's premier dance music events, We Are FSTVL, required a public installation that would look great during daylight hours but would also come alive at night, they enlisted the multidisciplinary creatives at This is Loop to come up with a solution.
Designing and constructing a clever hooped structure that they had dreamed of bringing into existence for quite some time, the team then needed the highest level of LED pixel control technology in order to turn their vision into a reality. It didn't take them long to pick exactly what they needed:
Ingredients:

– 1 x Pixelator: ENTTEC's flagship Ethernet > Pixel Link driver.
– 22 x Plink Injector (5V). The Pixel Link system allows data to travel up to 300 metres using standard Cat 6 cables.
– 220 metres of pixel tape (60 LEDs-per-metre). The designers doubled up on pixel tape to maximise brightness by making use of the second data output from each Plink Injector. Check out ENTTEC's range of professional grade LED pixel tapes.
"We chose to use ENTTEC equipment for this light sculpture for a few reasons, but the first and foremost being reliability. It was very important for us that we had the absolute minimum of technical issues and that should a problem arise that there would be a substantial support network behind the product to solve the problem quickly.
We also needed a large number of DMX universes to run the quantity of LED pixels to achieve the result we wanted. The Pixelator combined with PLinks ticked the box for this as an all-in-one solution enabling individual control of all 6600 pixels via 44 DMX universes.
Additionally, setting up the Pixelator and PLink combo couldn't have been be easier. It's pretty much plug and play. We chose to add a punch down terminal Ethernet patch unit to our rack with the Pixelator to make terminating the CAT5 cables a bit easier/faster, but aside from that, set up was almost as simple as just plugging the unit in."
Alan Hayes Project Designer/Co-Founder, This is Loop
Project design, creation and installation: This is Loop
Team –
Alan Hayes: Project Designer & Co Founder – This is Loop
Harriet Lumby: Project Coordinator & Co Founder – This is Loop
Katie Maddison: Creative Producer – We Are FSTVL
Alex Lovegrove: Technical and Lighting design
Alex Arvanitis: Installation Crew
Harry Penfold: Installation' Crew
Client: We Are FSTVL
Where credited, festival photography © Fanatic 2017 for We Are FSTVL.
Many thanks to Alan Hayes @ This is Loop for the visuals and above video.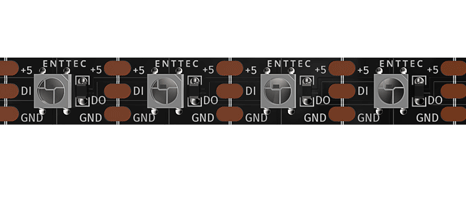 Black 5V RGB 60-LEDs/m
5V individually controllable 60 pixel/metre RGB pixel strip black PCB. 5M roll.
Shopping list: