Virtual reality arcade/bar
(Hackney, London, England)
"Stunning … like nothing you've ever seen." ~ Secret London
Ingredients:

– Connected to a power supply is the OCTO an 8-Universe DIN rail LED pixel controller
– 200m+ of ENTTEC pixel strip, with each LED being individually controllable. Explore ENTTEC's pixel strip range HERE.
Hidden beneath a railway arch in Haggerston, within the Borough of Hackney in London's East End, Otherworld gives guests the chance to try the latest VR experiences with their friends in scintillatingly sci-fi surroundings. While other venues might overlook the space beyond the headset, here you can enjoy cocktails, craft beer and island cuisine in-between trips into parallel dimensions, promising happy days for players and companions alike.
To create this uniquely immersive space, the Dream Corporation looked to project design team Red Deer, who in turn enlisted lighting specialists Voodoo Vision to bring their impressive architecture to life. Consultation and design lasted approximately six weeks, with installation spread over another four. The lighting design brief was to create an additional visual experience across the venue, making guests feel immersed in the otherworld between their sessions spent in the virtual reality pods.
Over 5000 individually-controllable LED pixels are used for lighting the main arch, with many more hidden in other key areas.

"It was a speedy setup, thanks to being able to daisy chain Art-Net PSUs all over the venue. ENTTEC make great configuration interfaces with good overall build quality and reliability."
Lucas Edwards
Lighting Designer @ Voodoo Vision
The bar front features over 1800 individually-controllable LED pixels.
The work of American minimalist artist Dan Flavin was a key influence in the style that Voodoo Vision set out to achieve. Lighting designer Lucas Edwards told us:
"Three main visual elements underpinned the design: fluorescent tubes, neon and the colour gradients from the resulting wash. We worked with Red Deer who designed all of the interiors so the lighting could be integrated discreetly into their minimalist design.
We opted to go for addressable LEDs, controlled and mapped across the venue's floorplan so that we could create venue-wide scenes and effects. Where we wanted neon, we used the LED equivalent, so that it could be easily colour controlled. With no grouping and all hardware at max resolution, we were able to create some incredible textures and beautifully smooth gradients and fades."
Project:
Client:
Project Design:
Lighting Design:
Lighting Installation: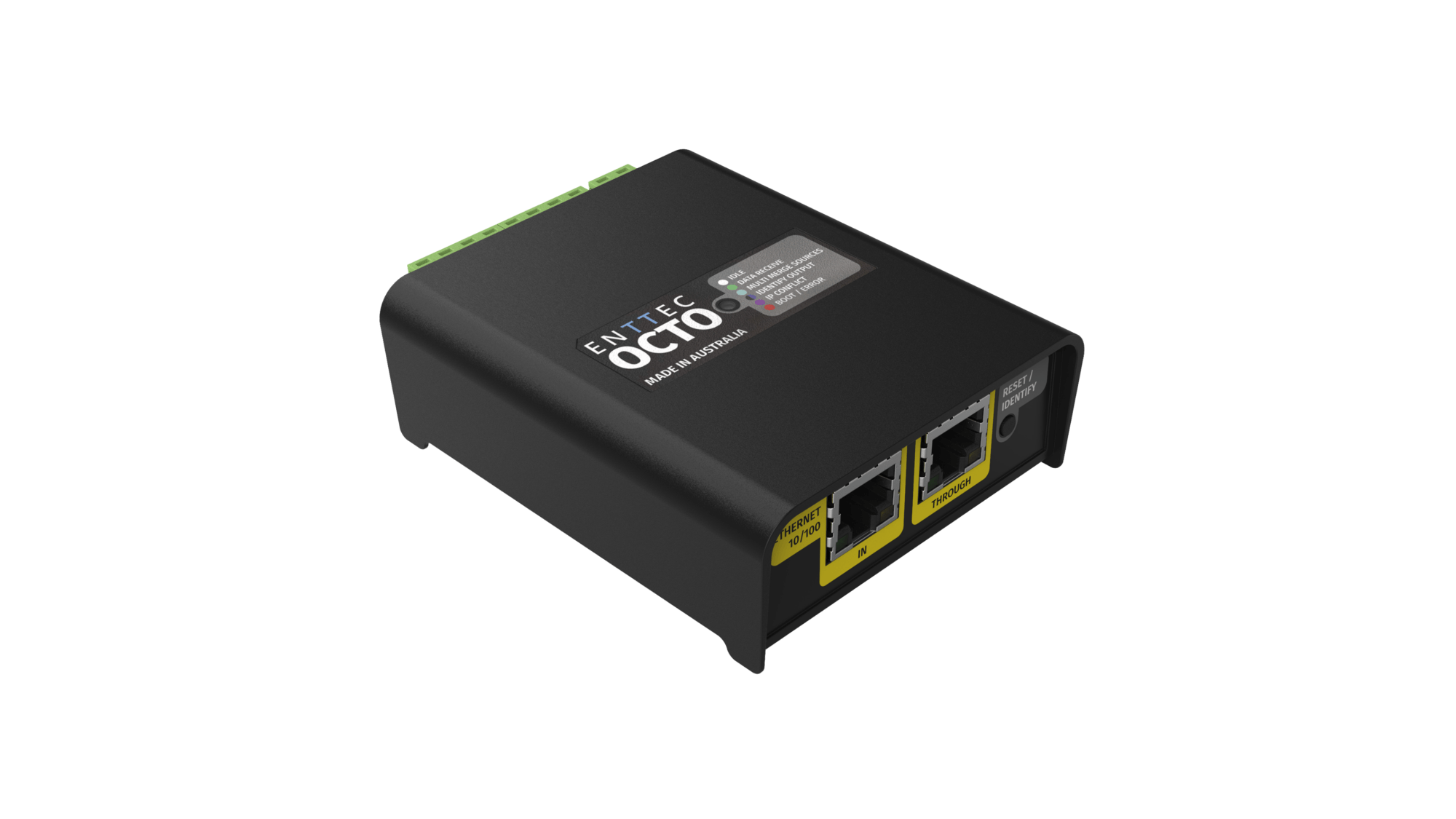 OCTO Mk2 – LED pixel controller
The OCTO is the 8-Universe NextGen DIN-rail LED pixel controller -> a pixel data converter & controller capable of controlling up to 1360 RGB LED pixels. The OCTO is a robust and reliable installation-grade device that connects directly to your pixels. Take any architectural, commercial, or entertainment project to the next level.
Shopping list