If you're new to the ENTTEC Storm range, we can tell you that the Storm10 is an installation-grade, 10-universe, Ethernet to DMX converter.

Our seasoned users will be delighted to know that compared to its popular predecessor – the Storm8 – you now get 4 extra ports, 2 more universes of control, plus RDM ability!
So, what does Storm10 do, exactly?
Storm10 receives digital lighting control data (sACN, Art-Net or ESP) via Ethernet and then converts it to gold standard DMX512 protocol, with which you can control up to 10 universes of lights (over 1700 RGB LEDs or 1280 RGBW LEDs) using the 12 available ports.
That's right: 12 ports and 10 universes.
We've designed this configuration so that ports 9 and 10 are duplicated on the front and back, giving you quick trouble shooting access and more flexibility with your project. As per DMX512 standard, the total load permitted on a DMX512 data link is 32 unit loads. Users can connect to any combination of up to 32 fixtures to port 9 or Port 10. In other words, 16 fixtures at the front & 16 fixtures at the back or 0 at the front & 32 at the back. In the same way to the maximum recommended cable distance between the STORM10's output and DMX fixture which is 300m combined for both ports.
You can independently configure all 10 ports to create a unique lighting display. Configure settings such as input protocol, merging options, refresh rate and even disable DMX out / DMX out RDM or any port completely.
The Ethernet port on the front is your data input but can also be the Storm10's power source via PoE. Or you can use the DC power input depending on the project's requirements and/or layout.
On the front there is also a LED indicator that gives live updates on the status of the Storm10. White means idle, green means it's sending DMX / RDM data, cyan means multiple merge sources, purple means IP conflict and red means device in boot or there is an error.
There is also a reset button on the front that when held down, resets the Storm10 back to it's factory settings. If you want to know what the factory settings are please refer to the user manual here.
The other exciting feature of the Storm10 is the introduction of RDM, or Remote Device Management. Allowing you to get a quick status update for your connected devices and change basic settings remotely.
You can use one Storm10 to control 10 universes of DMX512 data or connect multiple devices together to upscale your project. Being able to control a large number of universes allows the Storm10 to be used on any sized project.
Supporting multiple protocols, Art-Net, sACN, ESP and DMX-512, you can send data to the Storm10 from a wide range of sources.
It's intuitive design and mounting brackets gives you the flexibility to mount the Storm10 to a number of formats straight out of the box.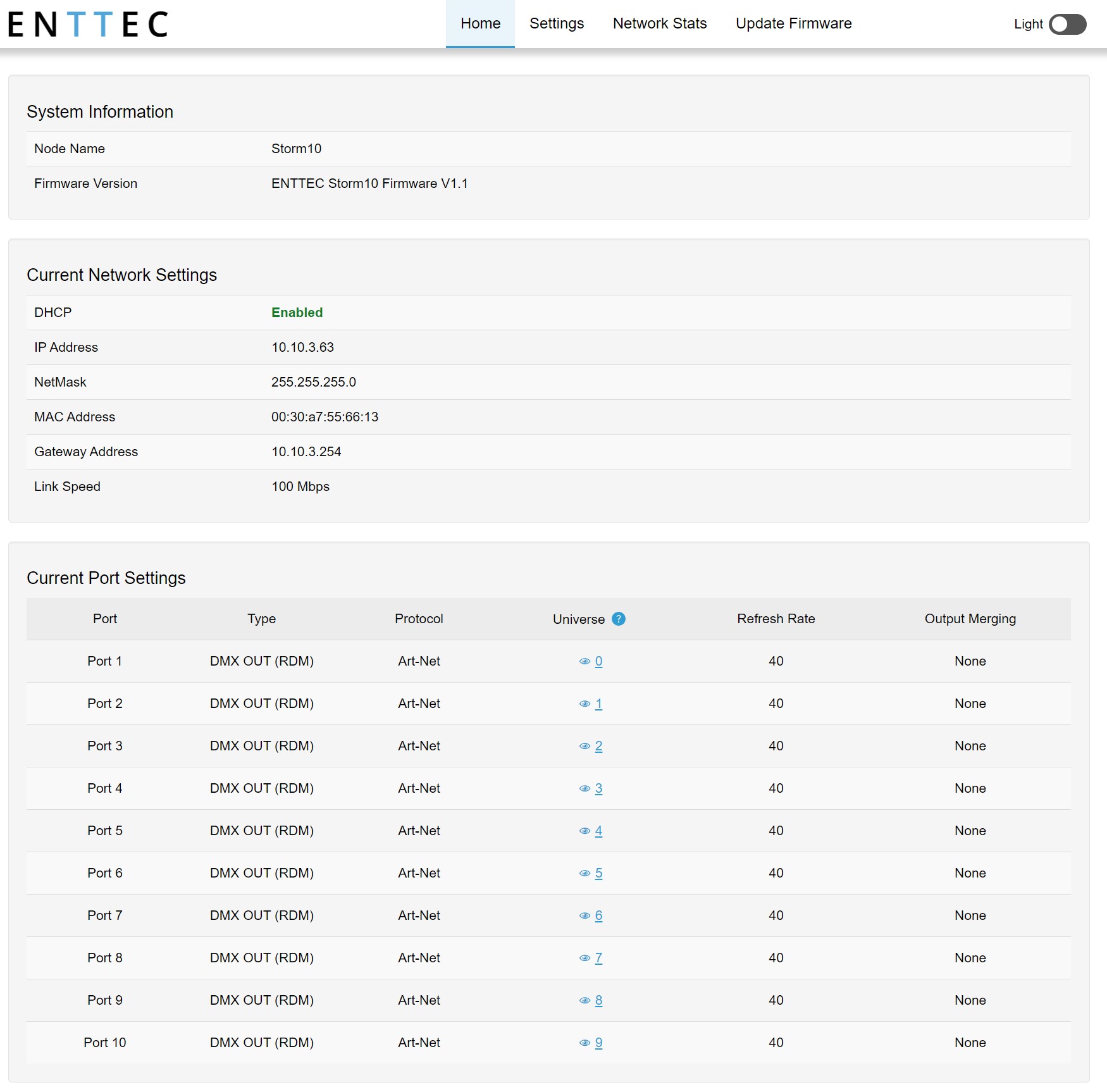 With its intuitive design you'll be running straight out of the box thanks to the Storm10's incredibly easy-to-use web interface. Forget the learning curve and spend more time on the fun stuff instead.
With a web-browser based settings page, the Storm10 is simple to setup and use, connect and configure in your favourite browser.
With all of these features, what applications is the Storm10 made for?
It is made for any application that requires a large amount of DMX outputs. With 10 universes, you can control up to 1,706 RGB LEDS, and that's with just 1 storm10, imagine what you can do connecting multiple storms10's together!
Here are a few examples!
A project example of our storm in use, is the Indonesian transit skybridge in Indonesia and Melbourne Airport. Both of these projects needed large scale dmx control and used multiple storms connected together. There will be a link to these projects below.
One really unique project we did with our storm rage, was controlling water droplets at the Hyundai pavilion in South Korea. As our Australian Sales team leader, VJ, put it, when you distil it down to its essence, control is just about sending, converting, receiving and actioning signals, and when you think about it this way, you can do some incredibly nifty things with lighting control gear.
Melbourne Airport
Our gear is made to control lights, and that's what this Storm10 is well designed to do, but if you think outside of the box, you can make some really creative projects.
So, if you want to really impress your audience and put on a truly unique show, then look no further than the storm10.