Version 1.4.4.0 firmware update

The new features:
We are happy to announce that we have added new exciting features to S-play firmware as well as modifications and optimization.
One of the most exciting features of the S-Play firmware update is the Remote connection
This remote access function is designed to streamline the process for the end-user so they can use a simple URL and connect from anywhere, providing they have secure internet access. Now with S-play's new feature, you can remotely access your S-Play device via an existing internet connection or 4G router from a laptop, PC, or smartphone. Once configured, you will be able to access your S-Play from anywhere in the world over the internet meaning you can Play, Stop, Edit playlists & schedules and create static cues easily (remotely recording dynamic /static cues from your computer to the S-Play over the internet isn't supported).
So, the process works by using a cloud webserver. For example, hosted by Amazon or some other web server rental service, to connect your device (laptop or smartphone) to your S-Play.
However, this seems a bit counter-intuitive. Why use a separate webserver to make this connection? Why can't we just connect over the internet? Well, we can, using the 2 methods listed above. Let's take a look at those.
The most straightforward way is to use an app like TeamViewer or RealVNC to connect like this: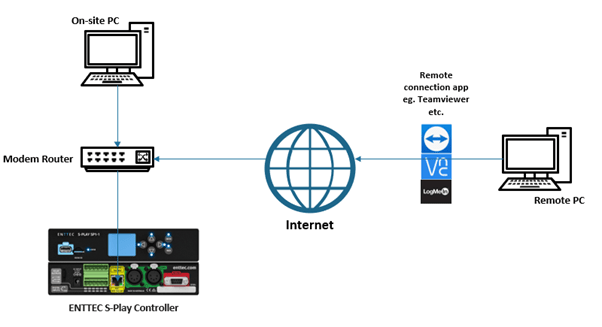 As you can see, this method requires that we have a PC on-site that is connected to our lighting controller network. As a result, the remote desktop apps will connect us to the PC, and then using that remote connection we can navigate through the on-site PC to connect to our S-Play, as if we were there in person. The limitation of this method is that we need to have a PC on-site and therefore need to be on all the time if we are to connect to it remotely at any time.
Now, how about 4G routers? You can get 4G routers inexpensively and add a data SIM card to them to allow remote internet connections. You can also then set up a port forwarding rule so that whenever you connect to that router, you are re-directed to the S-Play.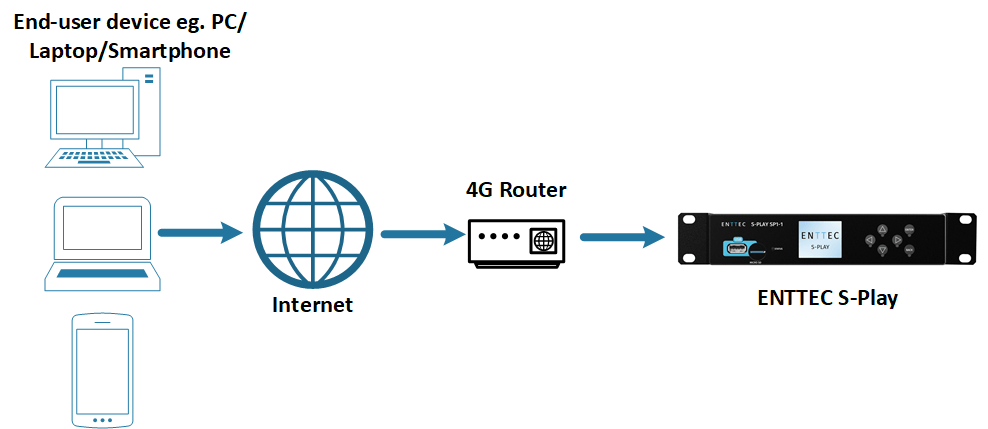 However, the limitation of this method is that you need a public IPv4 address on your 4G router. Depending on where you are and what your ISPs can provide, this might be a bit difficult. For example, here in Australia, most mobile services use CGNAT which means your public IP can change many times in an hour. So you may have to get specific and much more expensive business internet plans to get a fixed IP.
This brings us to the method using the S-Play's new remote connection feature. Using a separate web server to help with the connection, eliminates the need for an expensive business-level data plan like we needed for port forwarding. Instead, we'll set up a cloud server once. Then the S-Play will give us a URL that we can use to connect to it from anywhere in the world, as long as we and the S-Play both have internet access.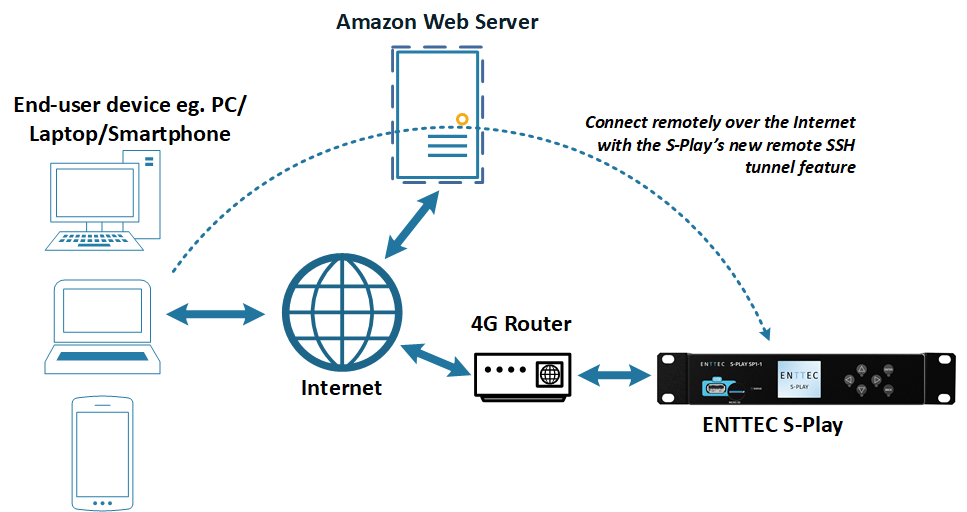 For more information on how to set up this cloud server click here!
---
Don't wait! Download the firmware update now!
S-PLAY firmware v1.4.0 / S-PLAY release notes