D-Split (5-Pin) is a 1 to 4 DMX512 Opto splitter allowing you to send a signal in different directions or to increase the number of fixtures you can send to your signal to DMX Comes with 4x 5-pin DMX outputs.
$140.00 +GST
Featuring our Opto isolated splitter with four 5-PIN XLR outlets
DMX daisy train out of control? D-Split is here it to make life easier.
The D-Split is both an optical splitter/isolator and repeater for DMX512. It provides one input and four outputs, each of which can be used to create a new chain of up to 32 DMX fixtures. So instead of having to make all fixtures fit within a single daisy chain, each of the four outputs from the D-Split can be the start of its own chain. In addition, multiple D-Split can be linked together if required, for greater flexibility.
If you're using DMX USB devices such as the DMX USB Pro or Pro MK2 and don't have any level of electrical protection, you can use the D-Split to stop your computer getting damaged by any DMX cabling faults or stray voltage on the DMX line. This is possible thanks to its 1000V input/output protection. As a great extra feature, each port has a dedicated status LED to give users the ability to visually check that everything is working as it should be.
This efficient Opto isolated splitter suits many different kinds of applications, from small theatres to places of worship. DJs and music bands also use the D-Split in addition to DMXIS.
The D-Split is available in two variants: one featuring a 5-pin DMX input and four 5-pin outputs. And a second featuring a 5-pin DMX input, 2×5-pin outputs and 2×3-pin outputs.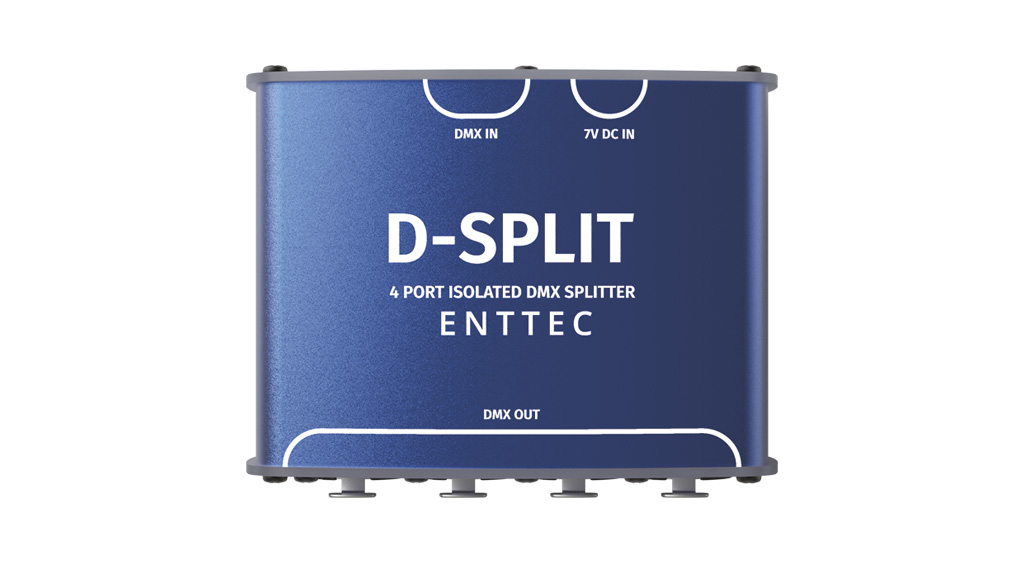 Features
Small yet powerful
The small, light and portable D-Split – offers a great solution to extend your DMX chain, without sacrificing the quality.
ANSI E1.11 – USITT DMX512-A compatible. One unit allows for replication of control up to 512 channels of DMX throughout the chain.
Protect your Equipment
1 input, 4 outputs, all optically isolated. Protection against up to 1000V of stray voltage. Simply connect your fixtures and control, and let D-Split take care of the rest.
The D-Split features 1000V isolation between input and output, and between any individual output ports. This protects your console from surges on DMX line, and also keeps any stray voltage from crossing to other DMX chains.
Monitor the activity
LED indicators show both power and DMX output. Each output has a green LED correct operation for each output.
Input & Ouptuts
1xDMX 5-pin for DMX Input. And 4x DMX 5-pin outputs for greater flexibility. All DMX outputs may be used simultaneously or in any combination.
Connect and Extend
Instead of having to make them all your fixtures fit within a single daisy chain, each of the four outputs from the D-Split can be the start of its own chain. Multiple D-Splits can be linked together if needed.
Downloads
D-Split 5pin Documents
Related products
Categories: Lighting Control, Software