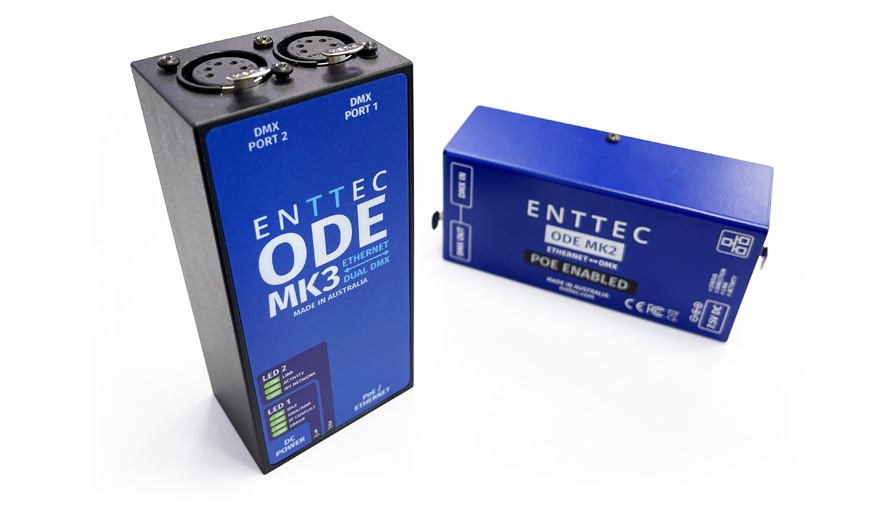 For many years, ENTTEC's ODE Mk2 has been the easiest and most portable way to control DMX lighting over a network.
But even the most classic designs need a spring clean or a fresh coat of paint on occasion, which is why we're proud to bring you the new look, updated ODE in its MK3 guise.
We've kept all of your favourite features, of course: its RDM capability, lockable Ethercon and XLR connectors, those vital status and troubleshooting LEDs … and lots more. It's even the same compact size – perfect to throw into your kit bag or hide within an installation.

So, what's new?
The ODE MK3 features TWO bi-directional DMX ports, with 5-pin female XLRs capable of sending and receiving data. Meaning you can now control over 1,000 DMX channels for twice the creative possibilities as before.
We've kept the handy DC jack power connector, but the ODE now comes with Power over Ethernet (PoE) as a standard.
It all comes packed into a lighter ABS case, injection moulded in our Australian factory to help you save those precious kilos whilst travelling, and what's more, you now get six months of premium access to ENTTEC's popular EMU software with every ODE Mk3 purchase.
This intuitive sound-to-light package enables musicians and DJs to run automated or responsive DMX light shows with ease, leaving you to focus on your performance instead!
All up, we've ensured that the ODE MK3 is an evolution rather than a revolution: it still has all of the things you love, plus a few handy improvements to make your projects even easier.
After all, if it ain't broke …
Give the new ODE MK3 a try.